XPower ION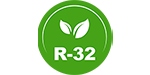 Ionizer

✔
Cooling/Heating (+50°C/-15°C)
Base Pan Heater
Exclusive availability: KOTSOVOLOS Stores
Wi-Fi Active
You can remotely control one or more Carrier air conditioners and dehumidifiers with a user-friendly mobile app (available for iOS & Android). The Wi-Fi stick is placed within the product packaging and no additional equipment is required to connect the device.
Ionizer
Releases negative ions to the air, simulating the relaxing effects of forests and waterfalls.
Self Diagnosis & Auto Protection
Once abnormal operation or part failure happens, the unit will shut off automatically to protect the system. Meanwhile it will indicate protection or error code for fast service.
Golden Fin
Unique anti-corrosive golden coating on the heat exchangers can withstand the salty air, rain and other corrosive elements. It also effectively prevents bacteria from breeding and improves heat efficiency.
Follow Me
A temperature sensor built in the remote controller will sense its surrounding temperature. The unit can adjust room temperature more accurately to the area you place the remote controller, to give you greater comfort.
Auto Defrosting
Prevents evaporator from freezing and maintains dehumidifying effect under low temperature ambient.
Gear operation
Three operating power options (50% – 75% – 100%)
Sleep Mode
This mode saves energy and improves night time comfort. The set temperature will increase by 1°C per hour in cooling mode or decrease by 1°C per hour in heating mode, for the first 2 hours of operation. Thereafter the unit will retain the new temperature for 5 hours after which it will switch off automatically!
Automatic Restart
After a potential power failure, the unit will automatically restart, keeping all previous settings.
Χ-ECΟ
By activating this mode, the unit can consume up to 60% less energy, comparing to the normal mode. The unit automatically adjusts the fan speed and the compressor's rotation providing you the same level of comfort but with the minimum energy consumption.
Electrical voltage protection (168 to 264V)
The can fully operate within the power range of 168 to 230V, while also being protected from any fluctuations that may occur within this range.
Turbo Mode
Turbo function will be helpful to cool or heat your room quickly and effectively.
Base Pan Heater
Electrical resistance in the condensate basin, which prevents the condenser from freezing. This way you can enjoy a purposeful heating operation even with an outside temperature of -15οC.
Wind Avoid Me (Breeze Away)
With this function the flow of air-conditioned air is directed in the opposite direction by the users of the space. This way you enjoy the desired temperature, without immediately feeling the air currents.
Remote Control Locking
You can lock the remote control to make sure that the selected settings are not accidentally changed.
Chiller leakage detection system
In case of cooling fluid leakage, the unit automatically detects the leak and shuts operation down while at the same it alerts you with the corresponding malfunction code on the indoor unit screen.
1W in Standby mode
The unit consumes less than 1W in standby mode.
Silent Mode
Indoor fan will run at super quiet mode, achieving extremely low noise levels.
Negative ion filter
This filter releases negative ions that refresh the air and provide a clean, refreshing atmosphere.
Cold Catalyst filter
Eliminates formaldehyde and other volatile organic compounds (VOCs) as well as harmful gases and odors. The filter's effectiveness does not deteriorate over time.
Vitamin C filter
Vitamin C, with its antioxidant action, is beneficial for skin health, due to its important role in the synthesis of skin collagen. This filter releases Vitamin C in the space, enhancing the elasticity and hydration of the occupants' skin during the operation of the air conditioner.
Note
The manufacturer reserves the right to change the characteristics of the products, the elements and the images, without prior notice.
SYSTEM
38QHG/42QHG009D8SHR
38QHG/42QHG012D8SHR
Cooling capacity kW
2.64 (1.03-3.22)
3.50 (1.38~4.31)
Cooling capacity BTU/h
9.007 (3.514 - 10.986)
11.942 (4.708 - 14.705)
Heating capacity kW
2.90 (0.82-3.37)
3.90 (1.07~4.38)
Heating capacity BTU/h
9.894 (2.798 - 11.498)
13.307 (3.650 - 14.944)
Temp range cooling °C
-15~50
-15~50
Temp range heating °C
-15~24
-15~24
SEER / SCOP (warmer) / SCOP (average) W/W
8.8 / 6.0 / 4.6
8.5 / 6.0 / 4.6
Energy label
A+++ / A+++ / A++
A+++ / A+++ / A++
Standard input (cooling) W
630
970
Standard input (heating) W
650
1000
Refrigerant amount kg
0,62
0,62
Voltage, Hz
220-240V~, 50/60Hz
220-240V~, 50/60Hz
INDOOR UNIT
42QHG009D8SR
42QHG012D8SR
Στάθμη θορύβου (Υψ./Μέση/Χαμ./Αθόρυβο) dB(A)
19~37
21~39
Sound pressure level (Max. - Min.) m3/h
160~560
170~630
Weight kg
8.7
8.7
Dimensions (W×D×H) mm
835×208×295
835×208×295
OUTDOOR UNIT
38QHG009D8SHR
38QHG012D8SHR
Sound pressure level dB(A)
50
51
Airflow m3/h
2150
2200
Weight kg
26.7
26.7
Dimensions (W×D×H) mm
765×303×555
765×303×555
Andere Produkte
Betreiben Sie bis zu fünf Innengeräte mit einem einzigen Außengerät.
PRODUKT ANZEIGEN
Klein und effizient. Erhältlich in 2 Ausführungen, entfernt bis zu 12 Liter Wasser pro Tag.
PRODUKT ANZEIGEN